THE REBIRTH!
Life is forever evolving, forever changing, forever transforming!
We invite you, on the 12th September, to join us in a celebration of reincarnation! This is where YOU get to decide what new life you are REBORN into. This is: THE REBIRTH!
Along this journey old skins will be shed, insecurities and negative energies will be released and YOU will be REBORN!
Once your journey into our immersive rebirth experience is complete, you will enter the children's party of all children's parties! Time to celebrate your new beginning and restart your life! Your reawakening is complete! Time to celebrate!
True post-metamorphosis vibes await! We are very excited to showcase our new venue by the water in the beautiful venue of Bar 90, Hackney Wick. What better way to wash our past insecurities and old negative energies away then with the power of water. We are very honoured to have MoreYoga giving you a sunrise session on a unique canal boat, an experience not to be missed!
We bring you:
· Amazing high energy DJs
· An immersive rebirthing experience
· Yoga by More Yoga
· Massage and energy healing station
· Fun birthday style games and entertainment
· Yummy vegan breakfast by Rawsome
· Delicious smoothies, juices, cacao and coffee
· Glitterlution biodegradeable glitter transformation station
· Interactive performance from our fabulous troupe of actors
· Warm greetings and hugs from our Wake-Up Angels
· Fun and antics with the Vibe Tribe
And it wouldn't be Morning Gloryville without A BANGING DANCE FLOOR.
Dress Code: Come dressed with the enthusiasm and freedom of the young and carefree! Dress as your younger self or a baby, come as your childhood heros, or get creative and come as the image of rebirth, a butterfly, the sunshine or even a phoenix – get creative, think outside the box!
Arrive and leave any time between 7am and 11am.
Little ones are welcome, but please bring ear defenders. It is a must.
Together we have built this beautiful community, an extended soul family. On this day we get to be reborn into our highest version of self and realise all our potential! Let's spread love and light!
Fatboy Slim Spreading The Love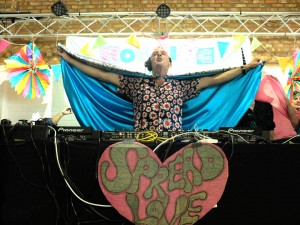 Basement Jaxx Raising The Energy
Morning Gloryville London Doco