Morning Gloryville East London~  (Episode#43)
Join us for our 43rd episode on Wednesday 1st March! ♥      
Thank you for dancing with us through all the good times and being beacons of support during the challenging ones. It really has been a RAVEOLUTIONARY + EVOLUTIONARY journey. Thank you to all the people who've worked to make this spectacle a true magic roundabout! Thank you to all the performers that have mesmerised us with sound, theatrics, dance moves and shindiggery. Thank you to you all for bringing your loving, crazy, playful, witty and wacky selves to us each month. Thank you thank you thank you. Massive round of applause all round! Nailed it. 🙂
Our vision is a happier, healthier and more glittery world. And just so you know our unicorns actually found biodegradeable to share with you all.
What we offer:
– Music and Dance
– Massage  > hosted by Massaura Bliss – Holistic Therapies
– Yoga Sessions
– Cacao > Oh Wow Cacao
-Coffee > Coffee Space
– Superfood and Juices Supernatural Juice & Smoothie Bar
– A HEART-EXPLOSIVE SHOW
Music:
TBC
Bring in the new year with a powerhouse of talented, powerful, beautiful, sassy women. 
❤️
Dance & Performance & Hugs
The salon:collective
The Fabulus of Unicorns
It's Happening
Hula Hoopin tricks
Free Biodegradable *Glitter* from Glitterlution Biodegradable Glitter
And of course our signature pumpin' dance-floor!
What do when you are not dancing:
– Take part in yoga sessions
– Relax in our outdoor terrace with a great view
– Indulge in our healthy selection of nibbles
– Melt into a cuddle puddle or a hug by our Wake Up Angels
– Sign up with one of masseures
GUARANTEED to nourish your SOUL, release your body and open your heart & mind.

Arrive and leave any time between 6.30am and 10.30am. This is not a class. If it is, then we are all teachers and all students.
Fatboy Slim Spreading The Love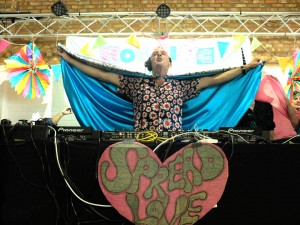 Basement Jaxx Raising The Energy
Morning Gloryville London Doco
What You Get
Free Wake-Up Massage Station
Organic Coffee Kiosk
Motivational Dance Team
Fabulus of Unicorns
It doesn't get any more fab than this!