We don't currently have any events planned here, but please sign up for our newsletter to keep in the loop!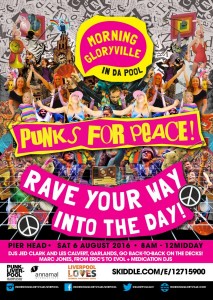 Morning Gloryville had an amazing collaboration with good friends 'Liverpool Loves' to return to the iconic Pier Head for their weekend rave date!
They presented special DJ guests Jed Clark and Les Calvert, Carry on Misbehavin' at Garlands go back to back and Marc Jones, from Erics to Evol, plus Medication DJs and featured outrageous PUNK themed costumes as the event took influence from PUNK LONDON, celebrating 40 years of punk.
"Always more than a musical genre, punk allowed a generation to express themselves without deference, to invent without fear, and to create without boundaries."
At Morning Gloryville Liverpool, we are homing in on PUNK ethics as we believe many of these reflect our own, vegetarianism/veganism, equality, freedom, anti-war, free-thought and non-conformity. Punk fashion was originally an expression of nonconformity, as well as opposition to both mainstream culture and the status-quo. Many punks wear second hand clothing, partly as an anti-consumerist statement. Vivienne Westwood came to public notice when she made clothes for Malcolm McLaren's, manager of the Sex Pistols, boutique and people saw their ability to synthesise clothing and music to shape the 1970s UK punk scene. Westwood still keeps the punk ethics going today, leading campaigns such as Climate Revolution, Vote Green, PETA, promoting ethical fashion and protesting anti-terror laws.
This Morning Gloryville is for you to BE your true self and let out your PUNK spirit!
Liverpool Loves wellbeing area will also be available to revitalise you for the day! 'Rave Your Way Into the Weekend!' and join this punk themed, conscious clubbing event to kick off Saturday's Liverpool Loves Programme with Liverpool's finest DJs.
————————–————————–————————–——–
Reviews:
"Dawn raves are the only way to set you up for day" – Metro (London), Apr 2015.
"Nothing wakes you up in the morning like a good dance to some electrifying music" – TimeOut, Jan 2015
See photos from one of our previous events here:
https://www.flickr.com/photos/liverpoolmorninggloryville/albums/72157659892912406