Morning Gloryville Loves Festivals!
Here at Gloryville, we love a good festy – and we have brought our magic to many large and small festivals over our six years. Check out these we're appearing at this season!
Rise and Shine retreat festival weekender
Wasing Park, Nr Reading
19-21 July 2019
This one is going to be so special! Our friends at Rise and Shine are creating an incredible plant-powered sober festival and retreat combo over an entire weekend in a fantastic location.
We are getting you all moving on the Sunday morning at 8am with our signature 2 hour sober rave, that will activate an incredible final day.
Upon arrival to the festival retreat you will receive your very own baby tree your ticket has bought you, you look after for 24 hrs, bless it however you choose and then we all plant a tree each in the ground on Saturday afternoon in a sacred community tree planting ceremony.
We invite everyone to make this experience the most positive vibration on all levels. To cast a magic spell together, immerse ourselves in a massive healing bubble of energy that we will all co create and contribute to, activating ourselves and each other.
The whole experience is a combo of Rainbow city yoga mornings which have been tried and tested at hundreds of Rainbow city retreats globally, and the super popular Rise and shine sober party which is a massively successful event in London and soon to be Bali and Ibiza.
To top it all off there is a big beautiful lake you can swim in.
For  the full runnings and lineup, and to buy your tickets, check out the Rise and Shine Festival Facebook page or the Eventbrite Ticket Page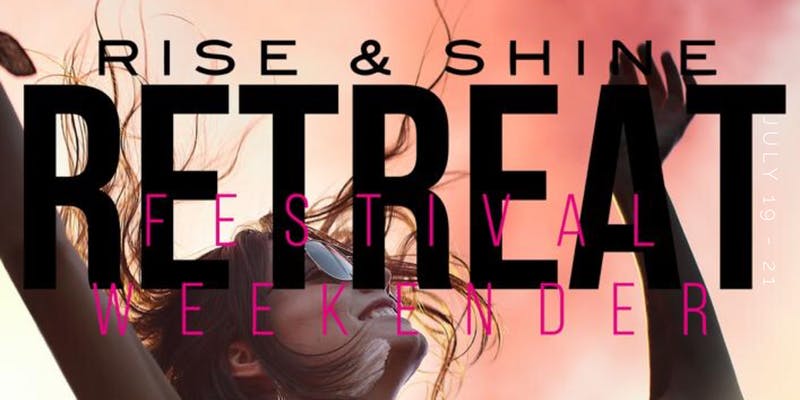 Turning Tides : Making London Creative Again
Greenwich Peninsula, London
5-7 & 12-14 JULY 2019
FRI 6 – 9PM & SAT, SUN 11AM – 8PM
** ENTRY IS FREE **
Morning Gloryville are opening the proceedings on each Saturday at this amazing and innovative festival.
Greenwich is now a creative infusion of homes, work zones and wellness centres. This Rave is all about celebrating divine artist potential! Acknowledging all that we are, wholesome, bright, colourful, energetic, beautiful beings.
On Saturday 6th and 13th July from 11am-3pm we're bringing the party to Turning Tides as we explore the mythical history of the River Thames. It's time to discover the secrets of her mysterious depths, listening to the whispers of mermen and maids from across the ages.
Join our wild rave as festival goers enjoy a free programme of cultural happenings including live music, art, holistic wellness activities and shoreline feasts all overlooking our great river.
The dance floor will be pumping, activated by our superstar DJs Anth Lowther and Krystal Roxx, accompanied by MC Angel.
We'll be bringing all of our Rave masters:
Reiki Masters from Inner Flow Zone

Yoga Leaders, Rebecca Barton and Liz Joy Oakley

Poseidon's Dance Goddesses

Sonic Sound Activation at 2pm, a gong ceremony led by Bambi

Drum Master Sessions by Tom Morley, who'll have 50 drums for all to play with

There will be a family creative zone, led by children's entertainers.
Glitterlution will bring the sparkle and our festive transformation station, where you can get all of your creative accessories and honour your inner fairy.
There will be our high vibes food and drink vendors:
Alkalize Me

Zip & Zing

Eat Vital

Rawsome

Cacao Cafe with Lisa Fearon

Happy Cat Coffee by David

Pearl Tree Spring Water : Amber & Hilary
For more information about the incredible line-up for each weekend, checkout the Turning Tides official site.
Find out more about the superb Greenwich Tide Project too!